In A Category Of Its Own
Ultherapy is a foundational technology for aesthetic practices, and fills a truly unique place in the spectrum of treatment options. It is the only FDA-cleared non-invasive lift, and the only treatment with a specific indication for improvement of lines and wrinkles on the décolleté.

The Only Non-Invasive Lift
The Ulthera® System is the FIRST and ONLY technology FDA-Cleared for non-invasive lift. It received its first FDA-clearance for non-invasive browlift in September 2009 through the FDA's De Novo submission process. This means the system was classified as a new category of device, and the clearance was based entirely on clinical data generated by the device – not on establishing equivalency with a predicate device. In October 2012, Ulthera received a second FDA indication for non-invasive neck and submental (under the chin) lift. Ulthera's third FDA indication came in December 2013 for ultrasound visualization of dermal and subdermal tissue layers. In June 2014, Ulthera received it's fourth indication for non-invasive improvement of lines and wrinkles on the décolletage. No other non-invasive aesthetic device combines visualization with treatment, nor can any other device demonstrate the same quantifiable results as the Ulthera® System.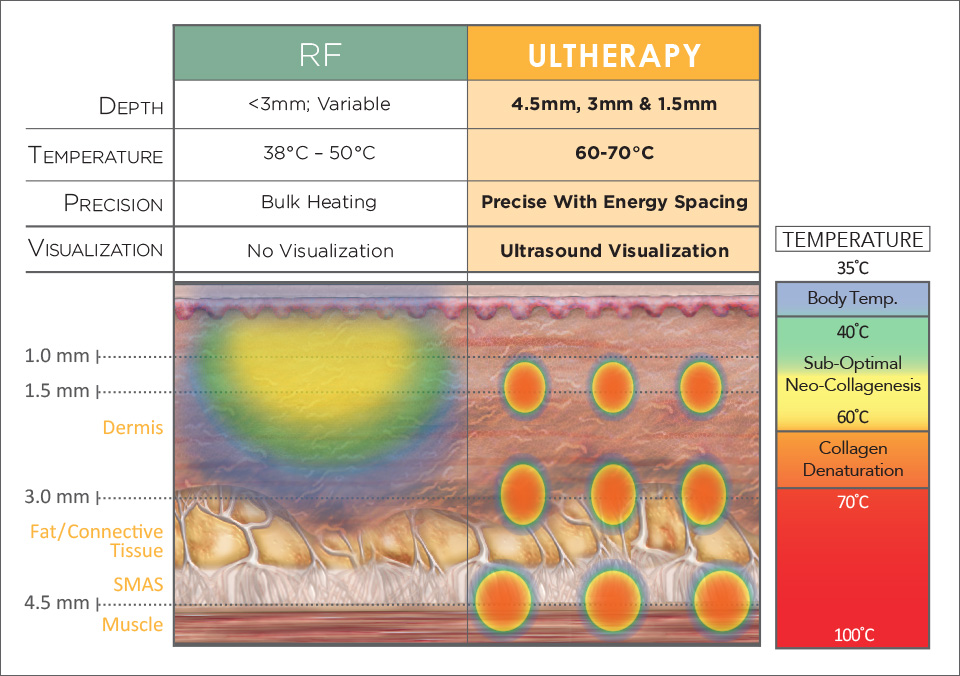 The Difference Between Ultherapy & RF Devices
Radio-Frequency devices use electricity to bulk heat skin, relying on tissue impedance to produce heat. The majority of this energy is absorbed in the dermis at depths of less than 3mm. Because energy is delivered through the skin's surface, treatment temperature must be kept below 43°C to prevent burns, unless surface cooling is applied. Energy delivery is also imprecise, even in newer RF devices (bipolar, tripolar, etc…), because factors like tissue composition and exposure time can cause variability in energy delivery. Most RF devices on the market today are FDA-cleared for "non-invasive treatment of wrinkles and rhytids", and almost all these devices received their indication by demonstrating "substantial equivalency" to predicate RF devices released 15+ years ago. 
The Ulthera® System uses micro-focused ultrasound, which unlike RF energy, doesn't dissipate as it penetrates tissue. During Ultherapy, 95% of the delivered energy is concentrated at a pre-selected depth below the skin's surface, creating controlled heating through cellular friction. Energy is delivered with surgical precision, reaching a depth 50% greater than RF devices, to non-invasively target the same deep tissue planes as a modern facelift (SMAS / Platysma). This energy heats local tissue structures to coagulative temperatures (~65°C), causing collagen denaturation and initiating aggressive collagen synthesis – without injuring the skin's surface. The Ulthera® System also combines treatment delivery with real-time ultrasound visualization, adding an enhanced degree of precision to treatment delivery.